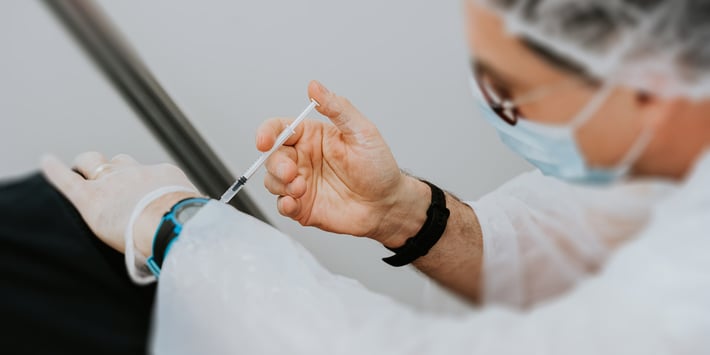 As mass vaccinations rollout across the UK, the biggest inoculation programme the country has ever launched. The lens of scrutiny looms large over the efficacy of vaccinations.
The daily news is saturated with vaccination updates from each corner of the globe. World leaders, expert scientists and healthcare organisations provide daily updates supporting, opposing, and challenging what is the most contentious issue in current affairs.
The UK must be acknowledged for their efforts in the vaccination rollout. We are the European leader of vaccinations, with 40 million people having at least one dose. Therefore, it is of no great surprise that such a significant time during not just the pandemic, but history, should be so divisive. It is worth illustrating our government and healthcare professionals deserve immense credit for the planning and administering of the largest vaccination programme in history.
Saliently, the latest statistics, which point to blood clots experienced by a small number of people after the vaccine, add further unrest. Some transparency is required.
How do vaccines work?
You are given a small amount of a harmless form of disease (in this case COVID-19). Your body then produces antibodies to fight off the virus, then if you encounter the disease again, your body already has the antibodies, so you do not get sick, you are immune.
Furthermore, it is important to remember being vaccinated is not a cure for illness. It is prevention. Unlike most medicines which treat the cure of illness, a vaccine prevents them. Transmission is also greatly reduced by vaccines.
The United Kingdom currently has three pharmaceutical companies approved for administering vaccinations: AstraZeneca (UK), Pfizer (USA) and Moderna (USA). All three vaccines require two dose vaccinations with differing interval time scales. The UK government has recently decided to leave a 12-week interval between doses of the AstraZeneca vaccine. This decision is led by a new analysis of trial data suggests that a 12-week gap "might" be more effective than shorter intervals.
Who authorises the use of vaccinations?
The MHRA (Medicine and healthcare regulatory agency) hold the national licensing system in place and are responsible for granting licences for potential COVID-19 vaccines and treatments once they meet high standards of safety and effectiveness.
Do you have a choice which vaccine you receive?
No, the Joint Committee on Vaccination and Immunisation has not advised a preference between the Pfizer-BioNTech or Oxford-AstraZeneca vaccine in any specific population, stating that "both give very high protection against severe disease–and both vaccines have good safety profiles".
Our vaccine programme is offering vaccines in line with the supply of vaccines available to us. The recently licensed Moderna vaccination has now been added to the approved list in the UK and is available.
How to register for the vaccination?
If you're 45 and over, you are now eligible for vaccination. By visiting the NHS website, you can book an appointment at your nearest vaccination clinic. If you're under 45 and concerned about the waiting time for vaccination - Omni Vaccine Queue Calculator for the UK can give you an indication. The website asks you to input a series of information - including your age, whether you are a care home or health worker, and more - and then it works out roughly when you might be expected to receive an invite for a dose, based on the most recent roll-out rate across the country.
The vaccination has given the world a pathway out of the covid grip that has subsumed the world for over a year now. With the partial reopening of shops bars and restaurants, the energy and sense of reinvigoration is palpable within society. We must now more than ever remain vigilant in our collective efforts to reduce transmission and the spread Covid-19.