For aspiring healthcare professionals, including those in the field of nursing, there are several avenues one can take for building, sustaining and exceling within their career. Many, especially those unfamiliar with the healthcare industry, often assume there is only one conventional route from university to registered nurse. However, this is merely one path in a number of opportunities available to those looking for a career as a nurse or related healthcare professionals.
Registered Nurse
Nurses often take the traditional academic pathway to becoming fully qualified nurses, starting with their A levels or equivalent (preferably, science) and, upon reaching the required grading (entry level varies upon university), transition into their 3 - year university course. For those who do not meet the necessary entry qualifications, some universities do offer a foundational year of study before moving onto the full degree course.
Before beginning any nursing degree, students must choose one of the following four nursing fields, although there are a small number of courses that do allow students into two fields, often referred to as 'dual field' degrees:
Adult nursing
Children's nursing
Learning disability nursing
Mental Health nursing
Typical nursing responsibilities vary for each specialism, unit and ward, and, therefore, requires a degree of flexibility. In addition, the very nature of a hospital setting leads to an environment packed with unpredictability. Some general duties include:
Record medical history and symptoms
Collaborate with team to plan for patient care
Advocate health and well-being of patient
Monitor patient health and record signs
Administer medications and treatments
Operate medical equipment
Perform diagnostic tests
Educate patients about management of illnesses
Other Pathways to RN
Besides this typical path to becoming a registered nurse, there are other ways of acquiring the required education and experience.
Nursing Degree Apprentice:
This is a flexible approach to nursing that does not require full-time study at a university. The employer is expected to release apprentices to study at university on a part-time basis. Typically, apprenticeships last 4 years.
Nursing Associate:
The role of a nursing associate sits alongside existing nursing care support workers and fully qualified registered nurses. It opens up a career in nursing to people from all backgrounds and walks of life, offering the opportunity to work towards becoming a registered nurse. A nursing associate is not a registered nurse per say, but with further training, it can be possible to 'top up' training to become one.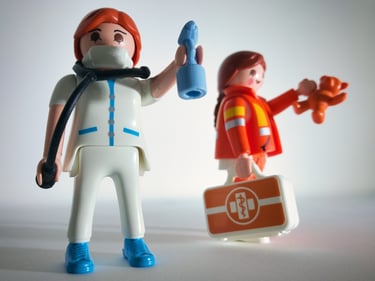 Operating Department Practitioners
Operating Department Practitioners, or commonly referred to as ODP's, work with patients of all ages and are involved in each phase of a person's operation. The role has an important part to play in the 3 phases of preoperative care:
Anaesthetic phase
Surgical phase
Recovery phase
Predominantly employed in operating theatres, but increasingly in other critical areas of the hospital, ODP's also manage preparing the environment and equipment for the procedure, while also ensuring a cohesive link between the surgical team and other parts of the operating theatre and hospital is maintained.
To become an ODP, a degree of diploma-level certification is required, with entry requirements differing for each university.
Health Care Assistant (HCA's)
HCA's play an important role in patient recovery and general hospital efficacy. From looking after the physical comforts of patients to recording medical observations, HCA's ultimately ensure a high level of cleanliness is maintained with both patients and equipment.
There are no specific entry requirements to becoming a healthcare assistant. Employers do, however, expect good literacy and numeracy. Some may ask for GCSEs in English and maths (or equivalent) or a healthcare qualification, such as BTEC or NVQ.
Some skills which are considered important are:
Communication skills, including listening
Organisational skills
Observational skills
A willingness to be hands-on with patience
Opportunity for progression and further studies is available for those who show a desire and perform well in their HCA role.
Surgical First Assistant (SFA)
Surgical First Assistants are registered healthcare professionals who provide continuous and dedicated assistance under the direct supervision of the operating surgeon throughout the procedure; they do not, however, perform any form of surgical intervention.
To provide a little more context into the role, surgical assistant's responsibilities include but are not limited to:
Applying dressings

Sterilising the operation site

Inserting tubes and intravenous lines

Providing pre and post-operative care to patients

Completing some clerical work such as record keeping and handling the phones



Educational institutions will decide on their own specific academic requirements for entry onto their programme. However, the minimum entry requirements to a recognised training programme are:
Evidence of an ability to study at Level 7 or above (e.g., Master's level)
Qualified and registered healthcare professional (i.e., with the Nursing and Midwifery Council if you are a nurse or the Health and Care Professions Council if you are an allied health professional)
Evidence of at least 18 months post-registration experience


These are a few of the key roles played by nurses and related careers. There are a great deal more! Feel free to contact the Rohme team at contact@rohme.uk should you have any further questions regarding your nurse qualifications and whether you meet the criteria to join the Rohme nurses.
---
Nurses also have their own unique personality. From caretakers to teachers, they are truly role models in all that they do every day in a fast-paced, sometimes stressful environment. Take this fun personality quiz created just for fun!
---